PASCAL AND AMI ROGÉ
"four hands and two hearts"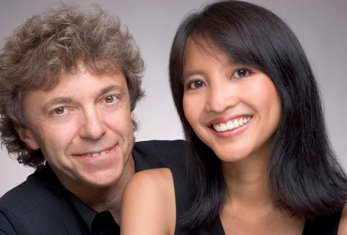 Pascal Rogé is one of the great interpreters of French piano music--his name is simply synonymous with the best playing of French repertoire in the world today.
For several years, Pascal has enjoyed playing recitals for four-hands/two-pianos with his partner in life and in music Ami Rogé. Together, they have travelled the world appearing at prestigious festivals and concert halls. The have appeared in New York Carnegie Hall, Hong Kong Joy of Music Festival, the Australian Festival of Chamber Music, the Beijing International Piano Festival, on tour in New Zealand, at Incontri in Terra di Sienna in Tuscany, at the Salisbury international Festival, the Thaxted Festival, Music for Galway, The Sage Gateshead, Nottingham's Lakeside Arts Centre, London's Chopin Society, and Petworth Festival.
Their recent tour of Japan saw them perform the premiere of Ami Suite, a new piece for four hands, written especially for them by the Japanese-American composer Paul Chihara. Additionally they have made a growing number of orchestral appearances together playing Poulenc's Concerto for Two Pianos and Mendelssohn's Concerto for Two Pianos in E Major, including the Shanghai Symphony, the Hong Kong Sinfonietta, the Poznan Philharmonic, the Metropolitan Orchestra of Lisbon, and the Jyväskylä Symphony Orchestra in Finland.
Pascal and Ami will record a 2 CD set of French repertoire for four-hands and two-pianos to be released on the Onyx Rogé Edition label in the coming year.
Together they will give the premiere of a newly-commissioned Concerto for Two Pianos by the composer Matthew Hindson with the Sydney Symphony Orchestra conducted by Vladimir Ashkenazy in 2011
"I have always said that my ambition was to play the music I love with the people I love; this has never been more true than today, since I have met Ami. With her I have been able to continue my search of sounds and colours throughout the French repertoire but now with four hands and two hearts. I believe that the love we share every day in our life together is our inspiration for interpreting the music and the emotions that transforms a double black and white piano recital into a single colourful dream."
Pascal Rogé